Google Chrome Crashes Continue To Multiply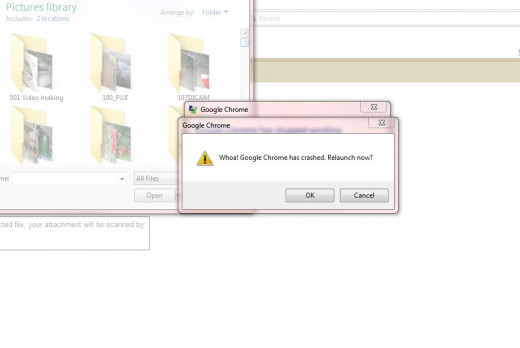 When it comes the Google Chrome Browser, the problems and
issues never seem to cease. I operate a Dell Inspiron 1545, Intel(R)Core(TM)2 Duo CPU T6600 @ 2.20GHz, 4.00 GB RAM with Windows 7 Home Premium 64-bit operating system.
I have written about the Google Chrome crashes with the flash player in the article Google Chrome Crashes In Windows 7 - Update on solution found. However, here I will address the issues of Google Chrome crashes associated when trying to upload photos to a website and uploading attachments to Yahoo Mail. I will attempt to recreate a crash or two and grab a screen shot of the crash going down.
First I will address the uploading of photos from your computer to a website. You arrive at the website all set to go and in my case, will probably write and article, then attempt to access my files to upload a photo or two. As soon as I open my folder on my computer for picture files, boom, Google Chrome crashes each and every time leaving me with just my desktop showing. All tabs, all windows, all information suddenly disappears. You can have hours of work just simply gone in an instant if you have not repeatedly been saving your work as you go along. Of course saving your work every minute or two does get to be quite burdensome and I know I skip doing this often as I get caught up in the article I may be working on.
This has been going on for well over a year. I have waited and waited for a solution to be found to no avail. I have visited the forums online, far too many to count, to find that there is no doable or viable solution to be found. I have contacted Google, with no positive results. There appears to be a full lack of concern by the techs of the Google Chrome Browser to fix this issue. I am open to anyone who wants to leave a solution to this problem in comment on this article! My only solution has been to import all my bookmarks to a Firefox spin off browser that I enjoy using, PaleMoon.
To me, this is sad, as Google Chrome features make Google Chrome the best browser for what I do online. As an author I am logged in to Google AdSense, Webmaster Tools, Google Analytics, Gmail, Google Documents, YouTube, etc., without having to log in to each and every site that is Google related. When I use another browser, I seemingly have to log in to each account which to say the least is time consuming.
Should a solution be found, I will be updating this article in the future.
Now, to address the Yahoo Mail uploading of attachments. As an AT&T U-verse subscriber for my internet needs and various others options in my bundle, Yahoo Mail is what I use as it works best with my internet connection and U-verse account. I can pull in other email accounts and view them all in my inbox. I have been using Yahoo Mail for about ten years and have documents in folders there that are that old. I have never had an issue with losing any information or documents stored on the Yahoo mail site. Should my home system crash, or if I am out and about and need to access my email on another system, all my folders and information is readily available. This is a feature that I do enjoy by having my email data stored online, off my system, as I have had system crashes in the past and if not backed up, would have lost my folders I have on Yahoo as well as all sent emails and saved emails not to mention my contacts which are quite extensive.
I used to use the Yahoo Mail Classic, however in recent years, Yahoo Mail gives us the option for a New Yahoo Mail. I prefer the new Yahoo mail as it is fast and works well, or was fast and working well at one point if one is not using Google Chrome
The first issue I had with the new Yahoo mail using Google Chrome was that I would click reply or forward on an email and the window would open, and still does by the way, to the blank email that you are going to write in. It will then simply lock up and freeze due to the stationary attempting to load. Not sure why that happens and contacting Yahoo, AT&T and browsing the forums has not given me a solution. When this happens, my whole system then locks up, and I have to do a cold start at times. You can not take the stationary option off of the new Yahoo Mail. I have looked high and low and that option is not available. I never use stationary myself.
The biggest issues for me is with new Yahoo mail, and Google Chrome. I will have an email open and attempt to attach a document to the email. When I click on "attach" nothing simply happens. No window shows up and the option to attach does not happen. The only way I can EVER attach a document to my Yahoo Mail is to revert to the Yahoo Mail in a browser other than Chrome. Sometimes, when I am lucky, I am able to at least save what I am working on in draft, then go to the option of closing my email and switching over to Yahoo Mail in a different browser to do my attachment. I normally will switch to PaleMoon or Firefox to attach in Yahoo Mail.
Again, no solution is to be found and the lack of concern by Google is the largest thing you will find when you research the problem online in various forums and such. Google seemingly will not attempt on a solution. That being said, I have found some solutions that involve going deeply into your operating system and manipulating files in order to attempt a fix for the problem. I am not an expert on such things and refuse to go that far to "attempt" a fix risking damage to my system. To me, it is an apparent Google problem from what all my research has shown and not computer related or OS related.
As mentioned, none of these issues are new for me. I was operating the same make of laptop from Dell as described above, with less RAM, a lower processor and Windows Vista, and I did not experience this issues. The issue became apparent when my other Dell crashed and Dell could not remedy the problem and replaced the system under warranty. The replacement Dell supplied came as describe in the first paragraph of this article. With the new system, the problems described started happening in December of 2010.
The issue seemingly is that Google Chrome needs to be "fixed" to be more compatible with Windows 7 64-bit. I have read of the problem happening in other operating systems, but the majority are associated with Windows 7 64-bit systems.
Any solution these issues would be greatly appreciated by this author. Please share your experiences, good or bad, with using Google Chrome and the Windows 7 64-bit operating system.